This guide will get you started with your most important device, the EC-6 also known as Growlink One Controller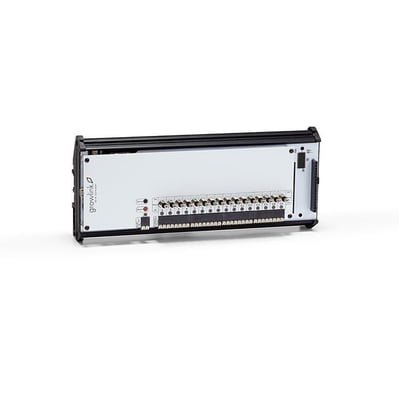 Wi-Fi Settings
2.4 GHz capable router
Channels 1 - 11
WPA/WPA2 encryption
On a broadcasted SSID network
Not behind a firewall of Enterprise network
Note: We do not recommend using WEP Wi-Fi settings, for security reasons.
Professional installation recommended for large indoor grows and greenhouse installations.
Questions? Visit http://growlink.com/support or call 800-432-0160.
Package Contents
The contents may vary based on your configuration.
1 x Growlink Controller w/8 or 16 relays
1 x Environment Sensor Module
1 x Quick Start Guide
2 x Antennas
Before You Begin
To set up and configure your Controller, you must have a working Wi-Fi network with an internet connection. If you have a very busy network, such as one with multiple video cameras, we recommend using a dedicated wireless access point for the Growlink system.
Step 1 - Installation
The Growlink Environment Sensor Module has integrated temperature, humidity, CO2 and light sensors. The ideal location for is in the middle of your room, out of direct light and with a height close to the top of your plant canopy. If you are growing in a large facility, you may want to add an additional Environment Sensor Module to your system. The Sensor can be hung using the included eye screw or mounted to a wall with the included bracket. Plug in the sensor before plugging in the Controller.
The Growlink Controller should be mounted near your wireless access point. Use the enclosed mounting hardware to mount it to any flat surface. Wire AC power to the included DC power supply. The first time it turns on, it will have a flashing blue light to indicate that it has power and is ready to be connected to a Wi-Fi network.
Step 2 - Download App
To set up and configure the Growlink Controller, you will need to install the Growlink App from either the Apple App Store or Google Play Store.
Step 3 - Launch App
Launch the App and follow the onscreen instructions to connect to your Controller and configure its Wi-Fi.
Step 4 - Connect Sensor Module
Depending on what configuration you bought, your sensor module may or may not come already attached to your Controller. If the sensor module is not already attached, or if you want to add an additional Sensor Module, go to Settings > Modules > Add Module to add it.
Getting to Know your Growlink System
Your Growlink Dashboard shows all of the real-time readings from the sensors connected to your system.
Devices
The Devices tab shows you the current status of any device connected to your system. "A" indicates the device is in Auto Mode. It is green if the device is turned on because on an active rule and red if it is off. You can also override the device either on or off.
To modify or add new Devices, use the Settings icon in the upper right then select Configure Modules. Select "Add Module" to add a new Device.
Status Indicators
Breathing Green - Your Controller is connected to the internet. When it is in this mode, you can call functions via the App.
Blinking Green - The Controller is trying to connect to the internet. If it continues to blink for several seconds, make sure that your internet service is working, then try resetting your Controller.
Blinking Blue - The Controller is in Listening Mode; it is waiting for your input to connect to Wi-Fi. This is the mode it comes in from the factory.
Flashing Purple - The Controller is updating its firmware. It will return to normal operation within a couple minutes.
Reconfiguring Wi-Fi
After the initial setup, if you want to change the Controller's Wi-Fi settings, press and hold the Setup button for approximately 15 seconds until the light flashes blue rapidly. (The Setup button is the Right button on the Photon chip.) Release the Setup button and the light will start blinking blue. The Controller is back in Listening Mode. From the App, go to Settings > Connect to Controller to reconfigure your Controller.
Definitions
Sensor - Sensors monitor the environment and provide back data. The Environment Sensor Module includes Temperature, Humidity, CO2 and Light. The Nutrient Controller includes pH, conductivity, reservoir temperature and reservoir level sensors.
Module - These are the physical units that make up the Growlink ecosystem. The Environment Controller, Environment Sensor Module, Nutrient Controller and Power Links are examples of modules.
Device - A device is an external device that is controlled by a Growlink Controller. Devices connect via Power Links, Remote Pro Relay Boards, or onboard I/O ports (depending on your model). Examples of devices are fans, lights, heaters, and humidifiers.
Additional Help
Need more help? You can troubleshoot an issue directly from the help center at
http://growlink.com/support or contact us at support@growlink.com or call us at 800-643-0733.