In this article, you will learn how to configure a Sensor Trigger
Sensor triggers are used to turn devices on and off based on sensor data readings. When a sensor value reaches a specified threshold, it will turn a device on. For example, you can set a trigger that will turn on the air conditioning when the temperature exceeds 85 degrees.
To create a new trigger, select "Rules" from the menu bar, "Add Rules," then "Sensor Triggers.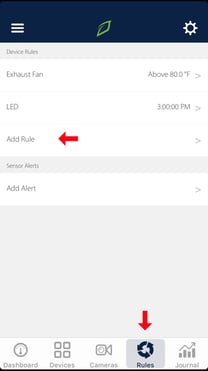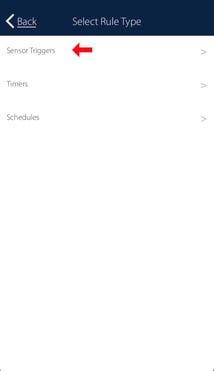 " Choose the sensor you want to trigger the event. Then pick what device will be turned on when triggered. "Time of Day" will restrict the trigger to either "Day Only" or "Night Only" or you can make the trigger valid "All Day." (Your Day is defined in Settings > Controller Profile.)
Set the threshold you want the device to turn on. To prevent the device from rapidly turning on and off, set the threshold you want the device to turn back off. A plain English description of the rule is displayed at the bottom of the screen.
Choose "Save" at the top of the screen to save the rule.