Setup Instructions for Crop Steering & Substrate Monitoring Equipment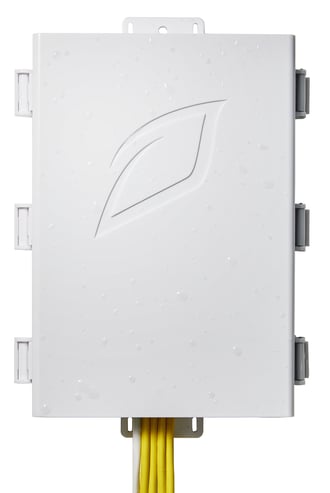 Table of Contents
---
Precision Irrigation Controller Technical Specifications
---
| | |
| --- | --- |
| Power Input: | 24VAC |
| Environmental Sensor Input(s): | Growlink TDR Soil Substrate Sensor(s) |
| | 12 VDC Power |
| | 3.3v Signal |
| Output: | 24 VAC |
| | 1 Amp Fuse Per Output |
| Wi-Fi & Local RF: | 2.4 GHz |
Features
---
Remote Access - Manage and monitor your climate and substrate remotely and quickly adjust strategies from a smartphone, tablet, or laptop - anytime, anywhere.
TDR Soil Moisture Sensors - Cutting-edge, digital, true time-domain reflectometer (TDR) soil moisture sensors accurately measure soil moisture, EC, and temperature.
Substrate Selection – The Precision Irrigation Controller can be configured to accurately measure and report using several types of growing substrates.
OTA Updates - Our controllers regularly receive over-the-air software updates that add new features and enhance existing ones over Wi-Fi.
Alerts - Stay informed on all active and historical alerts from your Growlink systems.
Fanatical Support - Free support from a Growlink specialist (during office hours).
1 24VAC Power Supply
1 Mounting Hardware Kit
Varying amount of TDR (VWC, EC, Temperature) Sensor(s) based on order
Controller and Sensor Dimensions
---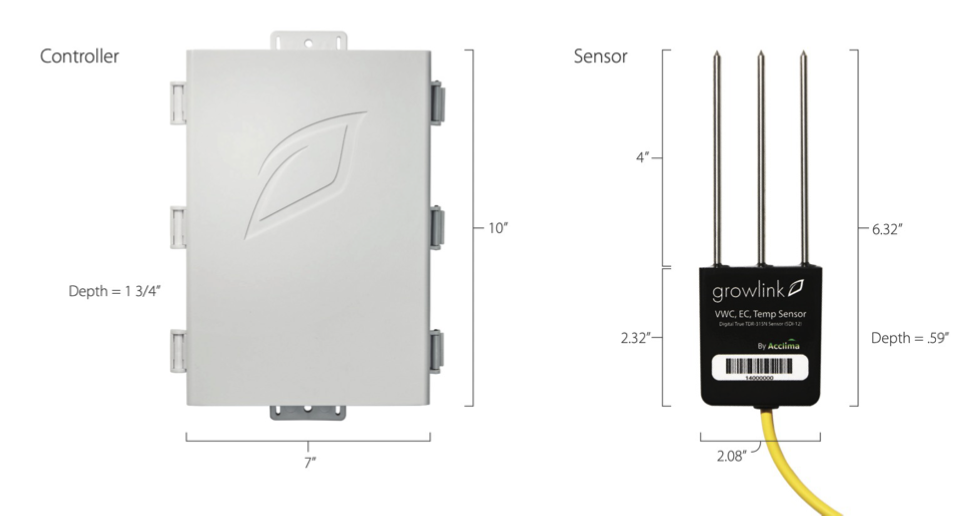 Installation & Wiring Instructions
---
Find generic wiring diagram examples for both multiple and single TDRs per channel here.
Single TDR per Channel Installation
The TDR probes are connected directly to the zone terminals of the PIC indicated in the provided wiring diagram(Example 1). If multiple TDR probes will be used per zone, proceed to the next section for daisy chaining instructions.
Insert each color wire in the appropriate terminals of the PIC as indicated on the wiring diagram. Then use a small flat blade screwdriver (3/32") to hand tighten all 3 screw terminals. Once tightened, gently pull on each wire to ensure they are fully secured in the terminal. If any slip out, repeat the above steps. IMPORTANT: Make sure to not leave excess copper exposed outside of the terminals. This may lead to two conductors contacting and short circuiting the probe.
Repeat for the remaining TDR probes.
Multiple TDR per channel Installation (Daisy Chaining in Commercial Applications)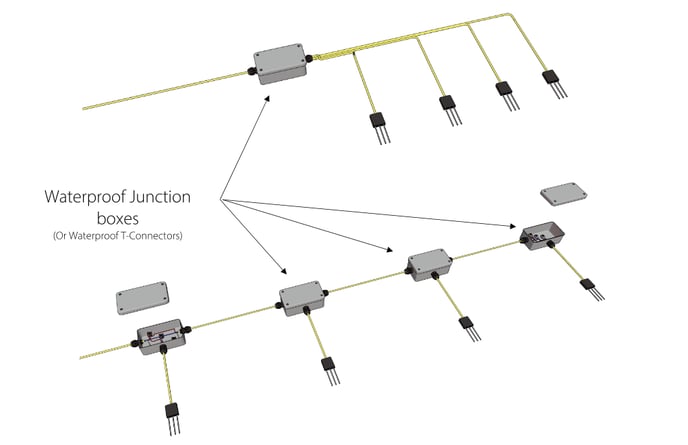 If more than 1 TDR probe is intended to be used per zone, making multiple connections with waterproof junction boxes or T-connectors must be utilized. A single junction box or daisy chain configuration may be used. Consult the example installation video and generic wiring diagrams for further installation details.

IMPORTANT: A maximum of 10 TDR probes with unique addresses may be installed on a single zone chain. Duplicate addresses on the same chain are not compatible. Available addresses are 0,1,2,3,4,5,6,7,8 & 9.
IMPORTANT: The total length of the daisy chain must not exceed 175 ft from the PIC at the furthest point. Exceeding this distance may lead to unreliable data transmission.

For each zone, run an 18/3 AWG copper home-run cable to the 1st junction box from the PIC controller. From this point, either run 18/3 AWG wire to each subsequent junction box or directly connect TDR probes in the junction box.
Verify each TDR Sensor address is unique within each zone chain. The address on each sensor must be unique on a single PIC input channel. Each input can support one of each sensor address (0-9) and the PIC has 4 inputs for a maximum total of 40 sensors per PIC.
To find the address of each sensor, reference the images below.
Strip individual conductors to expose copper then make connections using either Wago connectors, wire nuts or a similar secure wire connection method. Follow the provided wiring diagram for all connections. Make sure to keep wire color and polarity consistent throughout the entire chain.
Insert each color wire in the appropriate terminals of the PIC as indicated on the wiring diagram. Then use a small flat blade screwdriver (3/32") to hand tighten all 3 screw terminals. Once tightened, gently pull on each wire to ensure they are fully secured in the terminal.
Repeat these steps for additional TDR daisy chain zones.
Solenoid Valve Wiring
Up to 4 24VAC solenoid valves can be connected to and controlled by the Precision Irrigation Controller. The solenoids must be 24VAC to operate with the PIC. Any other voltage is not compatible with the outputs.
Connect the solenoid valve wires to the 4 labeled outputs on the right side of the PIC control board. The wire orientation should not matter with 24VAC valves.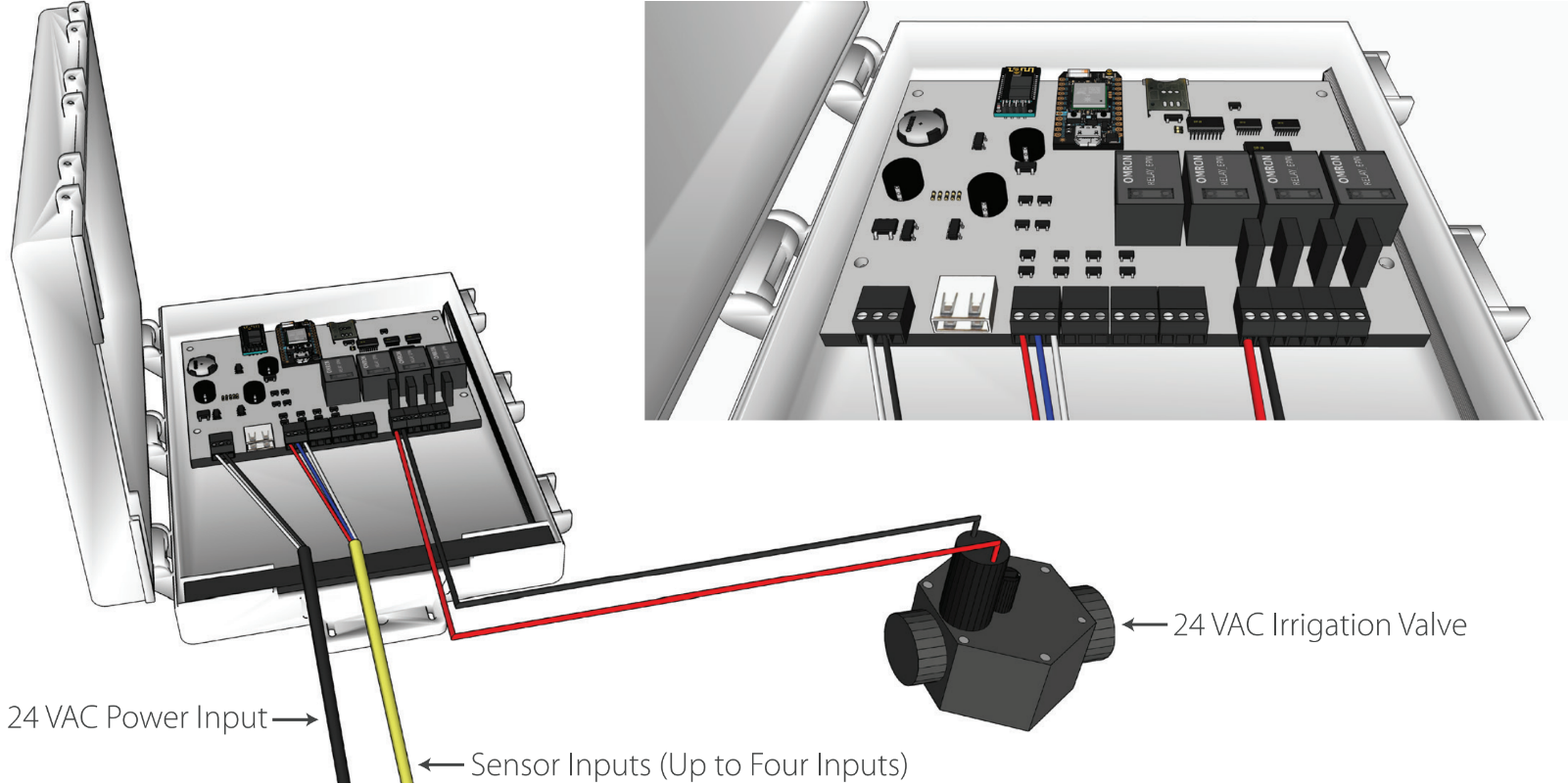 Sensor Placement
---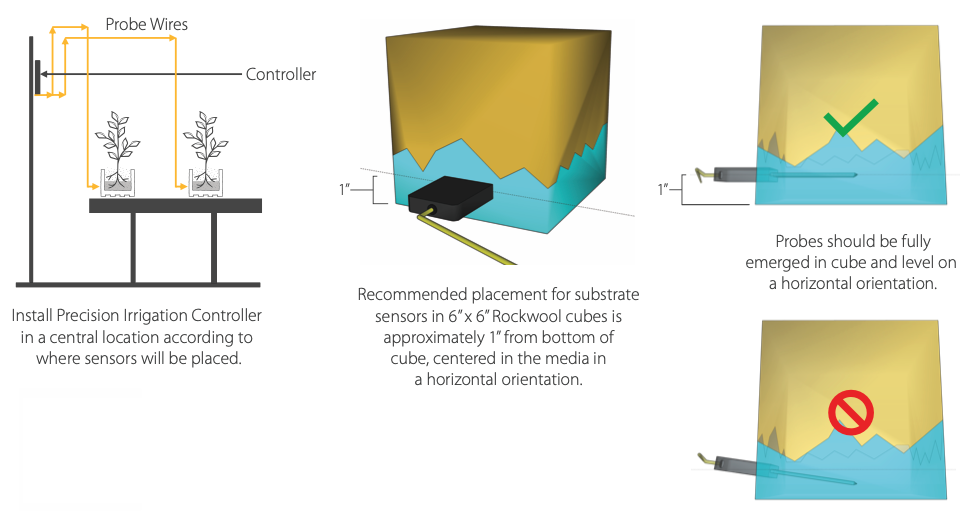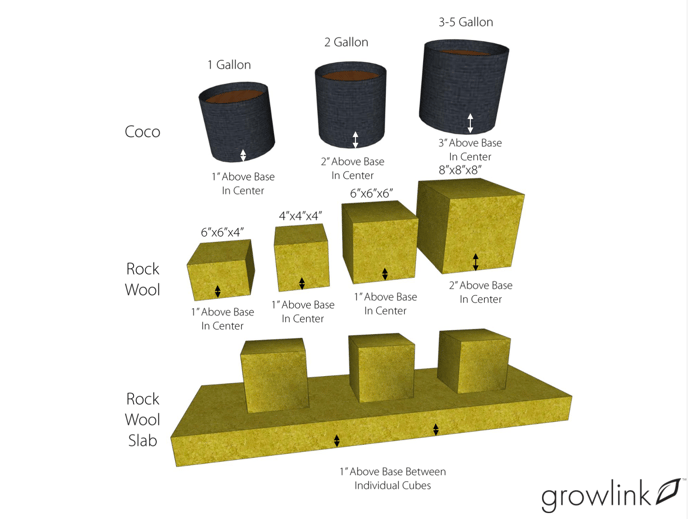 Mobile App Setup Guide
---
Plug in your Growlink device to power it on. The LED should be blinking blue. If not, hold the SETUP button until status light flashes blue rapidly (12-15 seconds).
Download the Growlink app from the Apple App Store, or Google Play Store.
Open the Growlink app and tap Create Account.


After creating an account, log into the app.

Tap on the settings icon in the top right corner and then tap Connect a Controller. If it is your first time creating an account, you will be automatically prompted to Setup A New Device.
NOTE: The first time using the Growlink app you will be prompted to allow Bluetooth access. This is required to setup newer Growlink controllers.


Connect the controller to internet. Watch the video or follow the instructions below to learn how.




For iPhone users:

If controller has a Bluetooth logo printed on it, tap New Bluetooth Device, then tap on the controller you wish to connect to from the list. A successful connection will be indicated with a "Congrats" message.

If using a Legacy model controller (Non-Bluetooth), tap "Legacy Wi-Fi Device". From the "Waiting for Wi-Fi connection" screen, follow the instructions shown on your device to complete the Wi-Fi connection process.

For Android users:

The Growlink app will detect if your controller is a Bluetooth device or a Legacy model device. Simply tap on the controller you wish to connect to once it shows on the screen.

After the connection process is complete, a list of available Wi-Fi networks will appear. Tap on the network you wish to connect the controller to, enter the network password, then tap Next.
Name your controller (i.e. Flower Room Irrigation). Tap Register Controller.
After controller registration, tap on Go To Settings

.


From the Controller Profile

page, you can set where you are located, time zone,

Day Start & Day End

(Lights On and Lights Off). After making changes, tap

Save

and you will be returned to the

Main Dashboard

.
Irrigation with Crop Steering
---
Manage plant growth by adjusting environmental factors and/or irrigation to encourage a crop's desired outcome. Changing environmental conditions allows the influence of growth toward the desired growth stage, typically vegetative or generative.
To receive a complete guide to Crop Steering, visit this link scroll to the bottom of the page and enter your e-mail to receive our free e-book.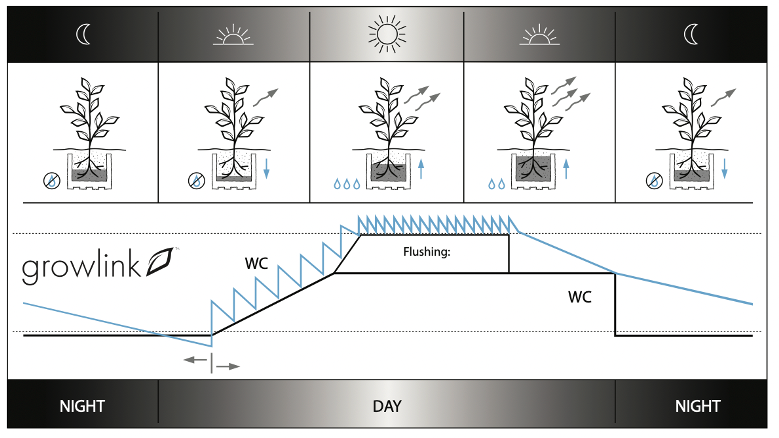 DISCONTINUED - Setting Crop Steering Programs
---
Navigate to the Following:
Dashboard > Rules > Crop Steering Program > Add Crop Steering Program
From this menu, name your program.
Choose which Sensor(s) your program will be based on.
Select which Devices (valves) will be activated.
Input Lights On Time. This the time your day cycle begins and when the Additional Dry-Back % is being looked for.
Set Irrigation End Time (Overnight Dry-Back period begins).
Designate Ramp Up Target VWC%. This is usually the max field capacity of your substrate.
Designate Dry-Back Target VWC%. This is the percentage you wish to reach in your overnight Dry-Back.
Designate Additional Dry-Back % Amount. This is the additional Dry-Back percentage after the Lights On Time the substrate needs to reach before P1 ramp up starts.
Set Maintenance Dry-Back Amount. This is the Dry-Back required during P2.
Set 1% Shot Size time. This number represents how many seconds of irrigation it takes to gain 1% VWC. To Figure out this value:

Start with your medium already wetted to roughly 40% to 50% VWC. Capture this starting measurement by looking at the dashboard. Write down this starting VWC.
Activate your drip irrigation and start a stopwatch. Wait 2-5 minutes, then turn your
irrigation off and stop the stopwatch. Wait a few more minutes for the reading
to stabilize. Now write down your ending VWC.
1% Shot Size = (Stopwatch Time In Seconds) / (Ending VWC - Starting VWC).
For example, if you went from 40% to 55% VWC in 180 seconds, then your
"1% shot size" = 180 / (55-40) = 12 seconds.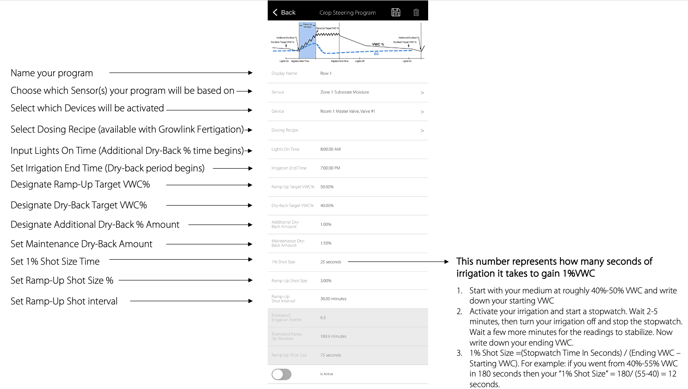 Troubleshooting
---
Sensor readings not showing up on all inputs OR input ports were moved from original placement: If you are not seeing all sensors showing up on the Dashboard or are seeing incorrect readings after moving input terminals, press the Reset button located on the front of the controller.

Controller didn't connect to Wi-Fi: If you are unsuccessful in the first attempt to connect your controller to a Wi-Fi network, hold down the Setup button located on the front of the controller for approximately 12-15 seconds until you see a rapid flashing blue light. Once you see the rapid flash, immediately release the Setup button. This will put the controller into Listening Mode (Blinking Blue), and you will then restart the connection process outlined in step 4 of this guide.
The Wi-Fi network or password has changed: In the event you need to re-connect the controller to a Wi-Fi network, put the controller back into Listening Mode (see above) and follow the Controller Connection process outlined in step 4.
Controller LED Status Light Color Codes
During device setup and operation, these are the LED light indicators:
Solid White: Firmware Startup
Slow Flashing Green: Wi-Fi connecting
Fast Flashing Green: Wi-Fi waiting on IP address
Fast Flashing Cyan: Wi-Fi connected, connecting to cloud
Fast Breathing Green: Loading configuration and detecting probes
Slow Breathing Green: Connected to cloud and running
Slow Flashing Blue: Wi-Fi configuration mode
Safe Mode: Slow breathing magenta
Safe Mode Requested: Fast flashing magenta
Firmware Updating: Slow flashing magenta
Slow Flashing Blue: Wi-Fi setup mode